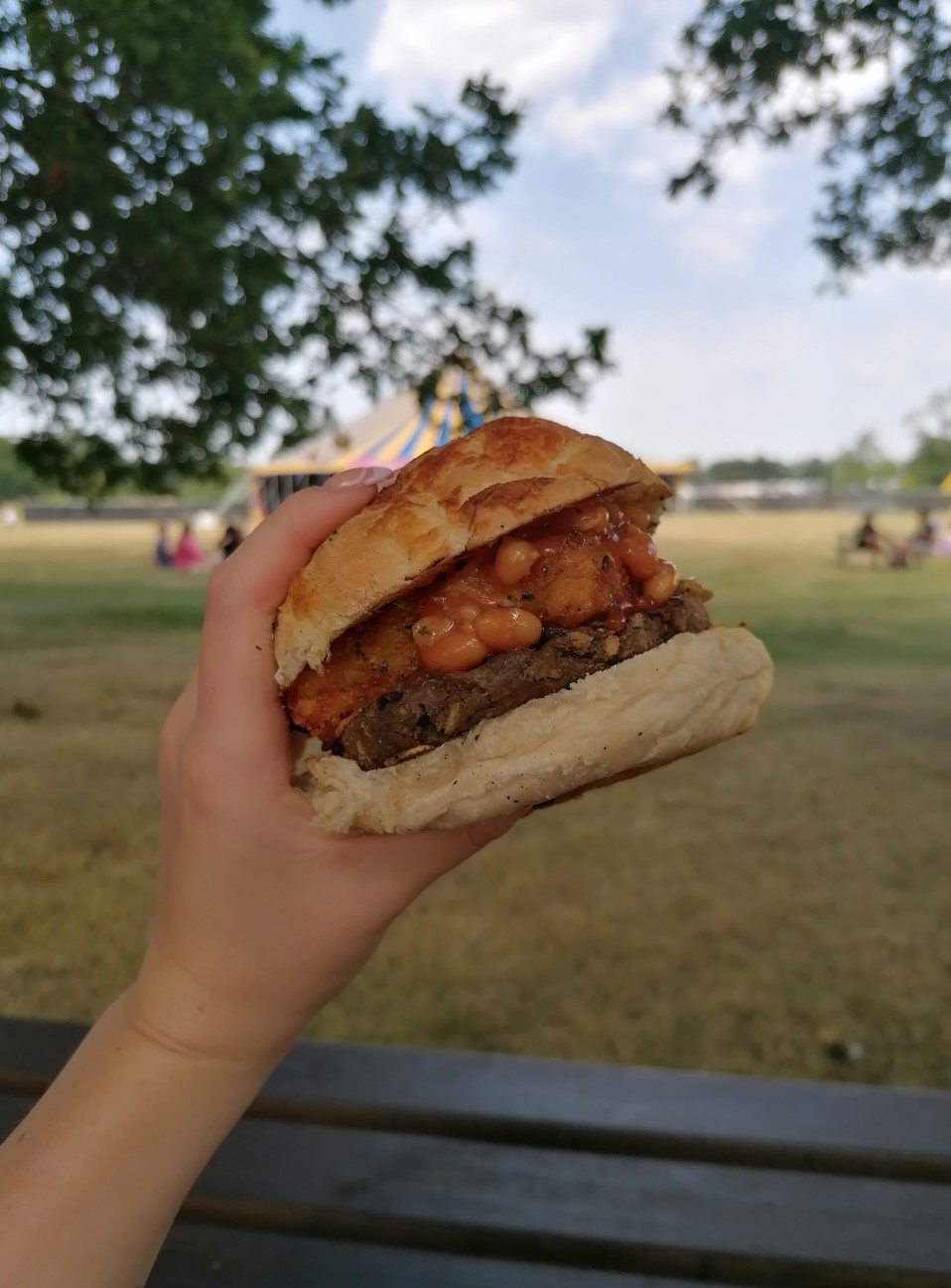 On Sunday I decided to start my morning with yoga, as I hadn't taken part in any of the physical or mindfulness activities yet. The 'Sunrise and Revive' class took place in the Mind and Body tent by the lake. It was a very calming way to get ready for the day, and so lovely to feel the grass under my feet and the sun on my skin.
After working up an appetite during yoga it was once again time to head to the food stalls. Another walk up and down looking at all the vendors, and I decided to try a breakfast burger from Vausages. They absolutely did not disappoint – I chose the single breakfast bap, complete with fried onions, baked beans and hash browns. The perfect breakfast!

As the day started to heat up I went back to my tent to relax and read in the shade for a bit, then I went for a dip in the lake. It was quite shallow, with a pebbly floor, but lovely and refreshing in the summer sun!
For me, it was important to still have some down time, as the weekend so far had been quite busy and full on.
Influencing Through Technology
The first talk I went to was by Mic the Vegan, a science writer and YouTuber who uses case studies and research to debunk anti-vegan myths. I'd watched his videos for a few years so it was great to see him on stage, answering people's questions!
Next up was Bimini Bon-Boulash – the first vegan drag queen to appear on Ru Pauls Drag Race UK! Bimini spoke about how they stayed vegan in a career where animal furs, feathers and skins are often used. They also answered questions from the audience, and discussed the trend of veganism in the LGBTQIA+ community. It was really interesting to think about, and I'd love to see Bimini perform in the future.
Afternoon Delight
Inspired by the delicious ice cream I'd had the previous day, I visited the other ice cream vendor, Lick. I'd actually visited the Lick store in Holmfirth before, but I wanted to try more of the amazing flavours. I got Turkish Delight and Candy Floss, with strawberry sauce and sprinkles on top. The queue was LONG, but it was absolutely worth it!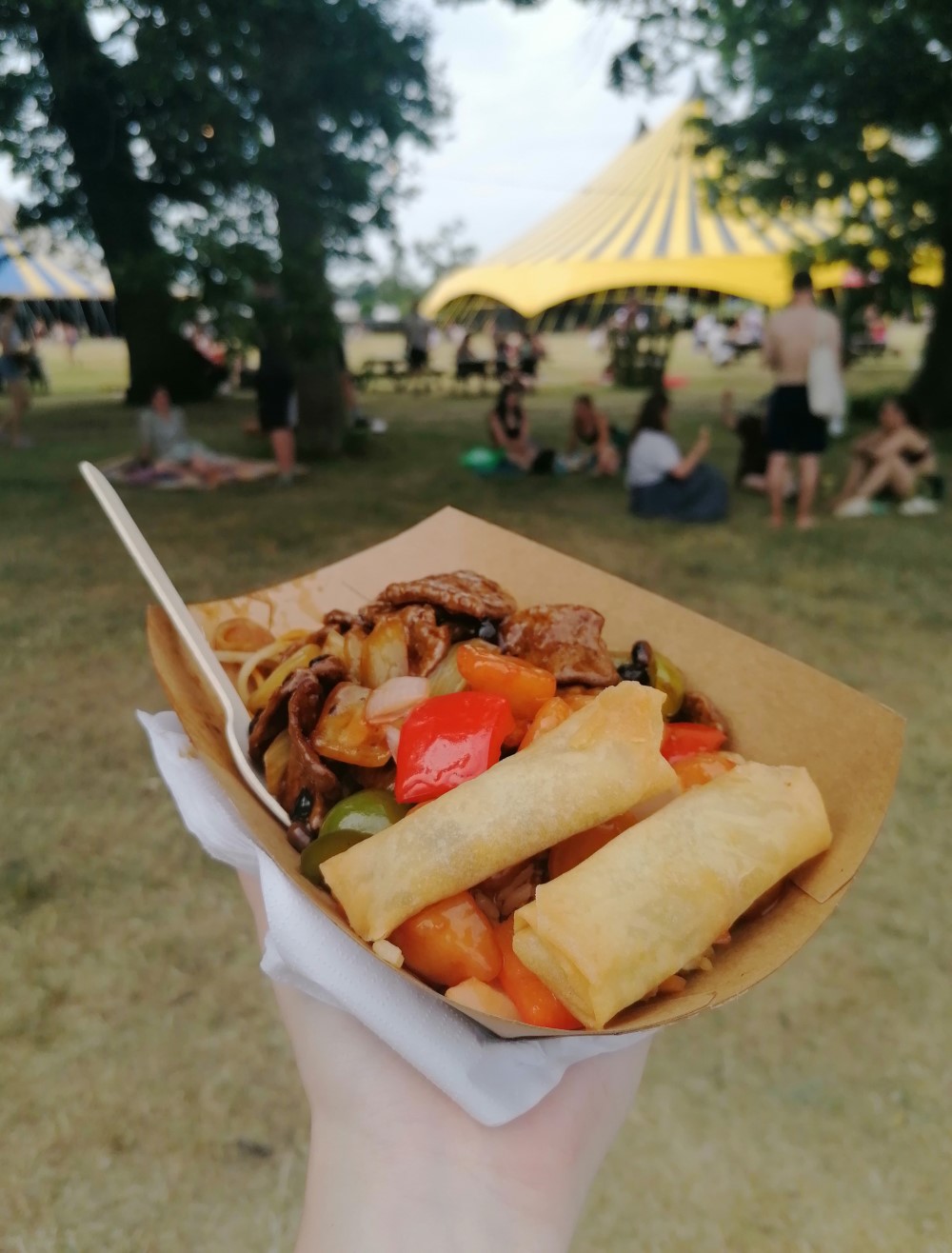 After my sweet treat it was time for a late lunch. One of the people I'd met had tried the Vegan Chinese Food by Vegan Planet, and highly recommended it. I got mock beef in black bean sauce with green peppers and noodles, sweet and sour vegan chicken, fried rice, with two veggie spring rolls on the side. Let me tell you, it was INSANE. Hands down the best Chinese takeaway I've had in my life!
With a belly full of pure salty joy I made my way back to my tent to pack up all my things. I'd learnt my lesson from day one and took everything in two trips. When I got to the field full of cars, I'd forgotten to take a note of where I'd parked. Because of my bad planning, I ended up wandering around aimlessly for a good 5 minutes before I found it!
When I got back to the main site I had some time to check out the merchandise stalls. There were shops selling homeware, candles, clothing, and also some charity stalls set up. There was even a tent renting out battery packs, which I thought was genius!
The last talk of the day was the headliner; Earthling Ed. Ed is a public speaker and vegan educator, who is well known for his debates with non-vegans. He always faces everything with such gentleness and understanding, and never berates or attacks in his speeches. Ed spoke about his journey to veganism, and also explained how childhood films such as Chicken Run and Babe were wonderful examples of how we should show kindness towards animals, but would be seen as 'vegan propaganda' if they were to be released now. He ended his talk saying he hopes one day Vegan Camp Out won't exist, because veganism will be the norm. I think everybody agreed on that one!
The End of an Adventure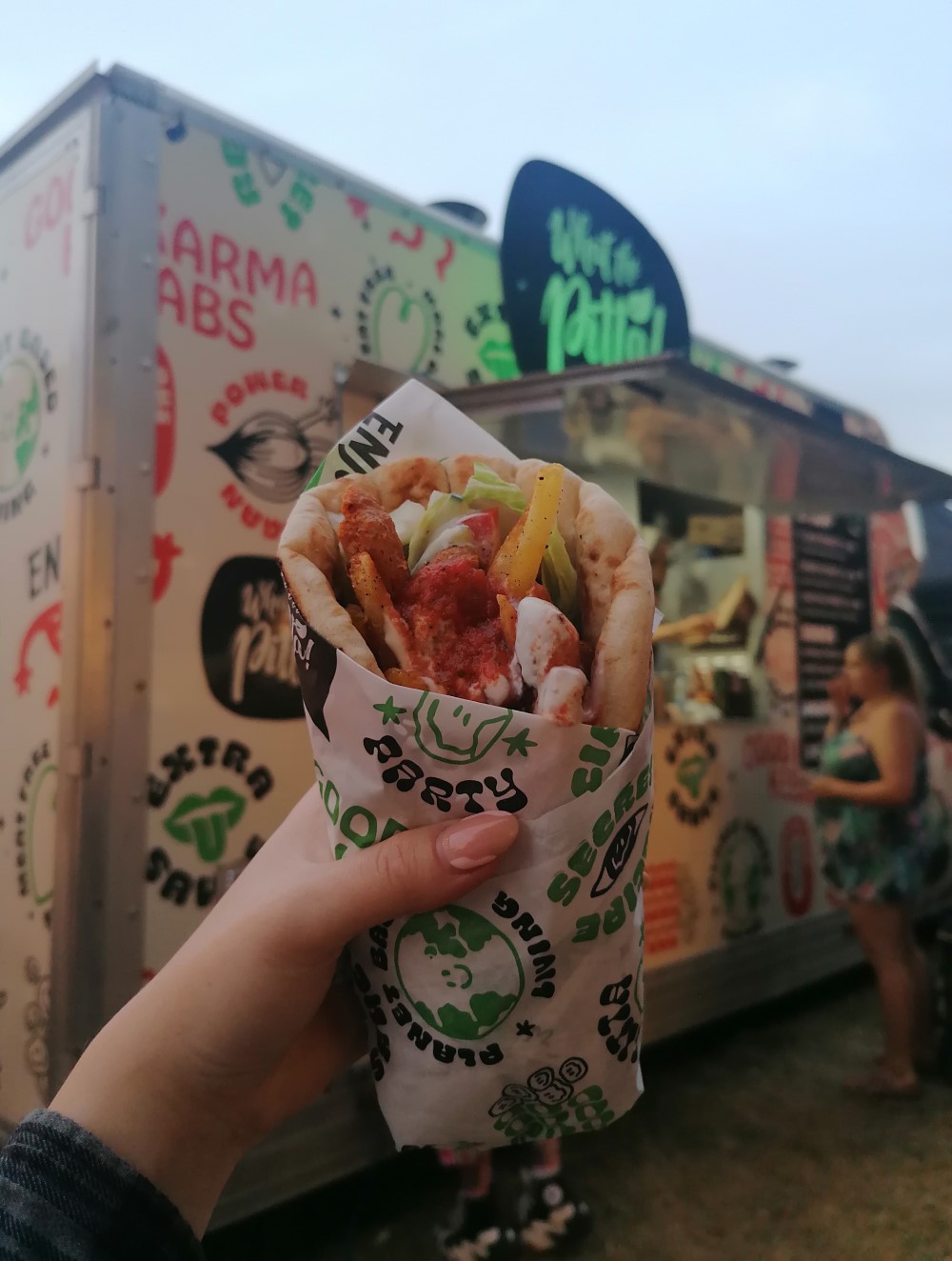 Before my long journey home I made one last trip to the food stalls. For my last meal one of the people I'd met recommended I try What the Pitta. I had Doner Gyros; spicy soya pieces in a warm fluffy pitta with tomatoes, lettuce, red onion, paprika fries, and tzatziki. It was a taste sensation, and I'm so glad I got to try it before I left!
After sitting and eating with some of my new vegan pals, I said goodbye and started my journey back home. I'd met some amazing people, eaten incredible food, and had an all-round brilliant time at Vegan Camp Out.
Next year I'll being going with my partner, and two of my other vegan friends have decided to come along too! I've learnt some valuable tips from my VCO adventure that I'll put to good use at Vegan Camp Out 2023!