Food, Shade, and Entertainment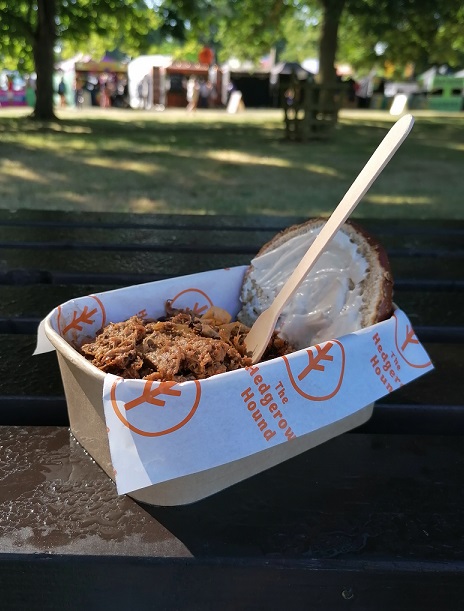 The morning of my first full day at Vegan Camp Out I woke up to sunshine lighting up my tent and the sound of birds chirping in the trees. The people who I'd set up camp near were sitting in a circle sharing stories of what they'd got up to the previous night, and chatting about which events they wanted to attend over the rest of the weekend.
Even though I had such a big meal the night before, my first though was all the wonderful food stalls I'd seen the previous evening. I set off toward the main area and followed the steady stream of people looking for breakfast. There were a few stalls which offered amazing looking breakfast dishes, and I went with Breakfast Brisket and Beans from The Hedgerow Hound. It was like nothing I'd ever had before; textured and juicy pulled seitan mixed in with smokey beans, all served within a soft pretzel bun!
The Main Events…
There were loads of events going on throughout the day, 34 across the four different tents. Across the small lake, in a quieter spot, was the Mind and Body tent for yoga, meditation and exercise. In the main site there was a tent for musicians to perform, and the closest tent to the entrance was the activism tent. In the middle of these was the biggest tent which held the main stage, for talks from various vegan influencers, artists and athletes. The times were staggered so you could attend as many possible, or grab some food to eat between talks, which was very convenient!
I stayed in the Main tent for most for the day, listening to talks from Monami Frost, The Happy Pear, Preacher Lawson, and Evanna Lynch (aka Luna Lovegood). I'd say my highlight was The Happy Pear, who I'd never heard of before but was recommended them by some lovely people I met in the queue for my lunch. Their main focus was about how we need to build community in order to all live longer and happier lives (as well as eating vegetables, of course)!

In the Main tent there were also talks from Hench Herbivore, Juliet Gellatley, Heather Mills and Simon Amstell, and even more going on in the Activism and Music tents.
Keeping Cool!
It was getting hotter as the day progressed, and keeping cool and hydrated was a priority. The event tents offered shade from the sun but also seemed to trap the warm air, and after a while became sweaty and uncomfortable. There was also shaded seating by the food stalls which offered some relief when the sun was at it's peak, although this seemed to get snatched up quickly!
As well as the food vendors selling refreshments and beverages, there were also free water bottle refill stations dotted around the camp sites and in the main area. There was also a gorgeous small lake to swim in which look super refreshing!
Thankfully I'd pitched my tent under some trees which created shade for the most of the day, meaning my tent was cool at night and not unbearably hot, however there weren't too many shady spots about the campsite and I think others might have suffered in the heat.

Food Glorious Food!
After listening to Monami Frost, a vegan influencer and entrepreneur, wanted to try some of her food so I went to the Frost Burgers stand. The 'Chicken Free' burger and chips was good and I would have loved to visit their main location after VCO, but sadly they have since closed down.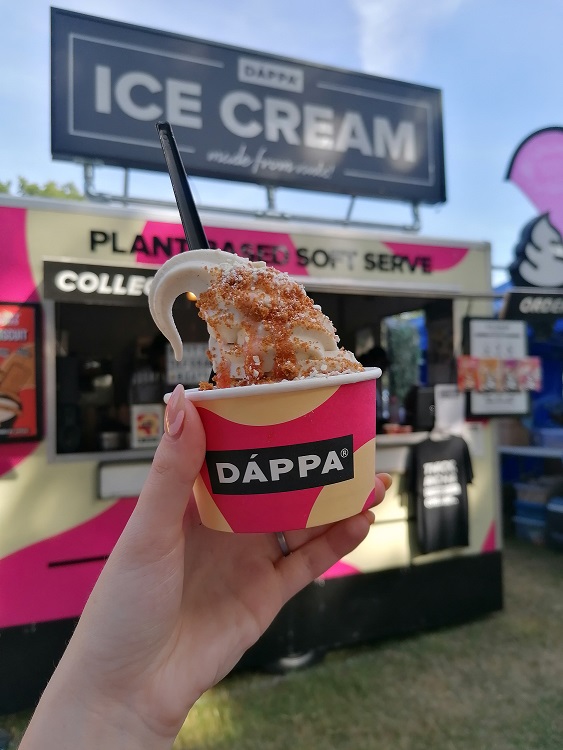 A food-based highlight of my weekend was the discovery of Dappa. I'd not had soft serve ice cream since going vegan 3 years earlier, so when I saw the Dappa stall I just had to try it. Let me tell you, it went above and beyond my expectations! It was lovely, creamy and sweet, everything I'd been missing, 10/10 recommend!
For my final meal of the day I chose to get curry from Indo Vegan. I got a mix of Saag Aloo (spinach and potato) and Chana (curried chickpeas) on a bed of fried rice. It was a HUGE portion, salty and delicious, and really spicy!
After my busy day of eating, walking, and enjoying, I went to bed excited for what my final day at Vegan Camp Out would bring.